Recent Posts
91
« Last post by pjm on May 26, 2018, 01:18:43 AM »
92
« Last post by rfuuff on May 25, 2018, 04:08:38 PM »
Can anyone tell me exactly what this guitar is and what it's worth. I found one at Guitar Center, but I don't want to overpay for it. I can't find any information on it anywhere.
93
« Last post by DoogieJ on May 25, 2018, 08:24:05 AM »
Again thank you so much for the info, it's greatly appreciated. A correction though it has a cedar neck with ebony fret board, nut, and bridge. Well the boss will be pleased with its value and it looks like I had better get busy on it. The hardest part will likely chasing down an original tuner assembly as one has been replaced.
94
with the dots o as fret markers makes it a bit older more like 1908 - 09 and that tail piece as you can see was added later but yep still worth having it repaired the last one I saw with repairs sold for around the $1700 ( canadian )and it had some serious cracks front and back but very well repaired.
95
« Last post by DoogieJ on May 24, 2018, 11:29:59 PM »
Thank you very much for the info. It has mahogany /ebony neck and 3 fret markers. The music store I work at dug this up and asked me if I could take a look at it and see if it was worth repairing. One look at the rosewood sides was all I needed to tell them yes. So I'm currently planning on resetting neck and dealing with some cracks in body. I have attached some more pictures. Happy to see that this forum is here so I can learn more about this guitar after saving it from being tossed in the dumpster.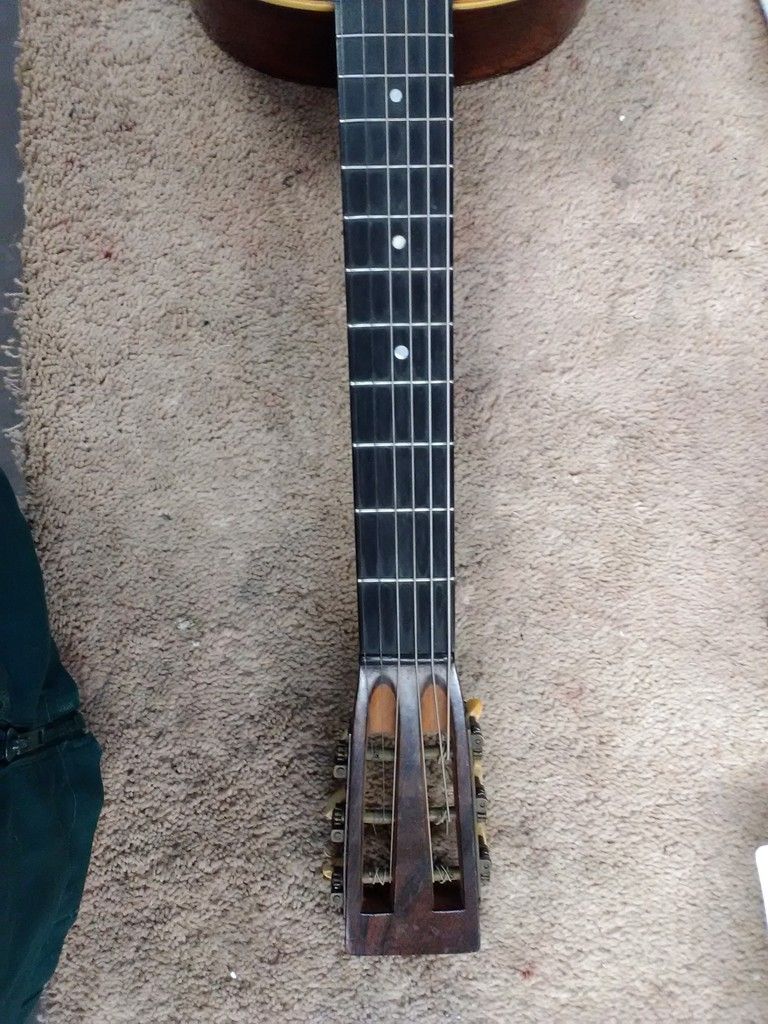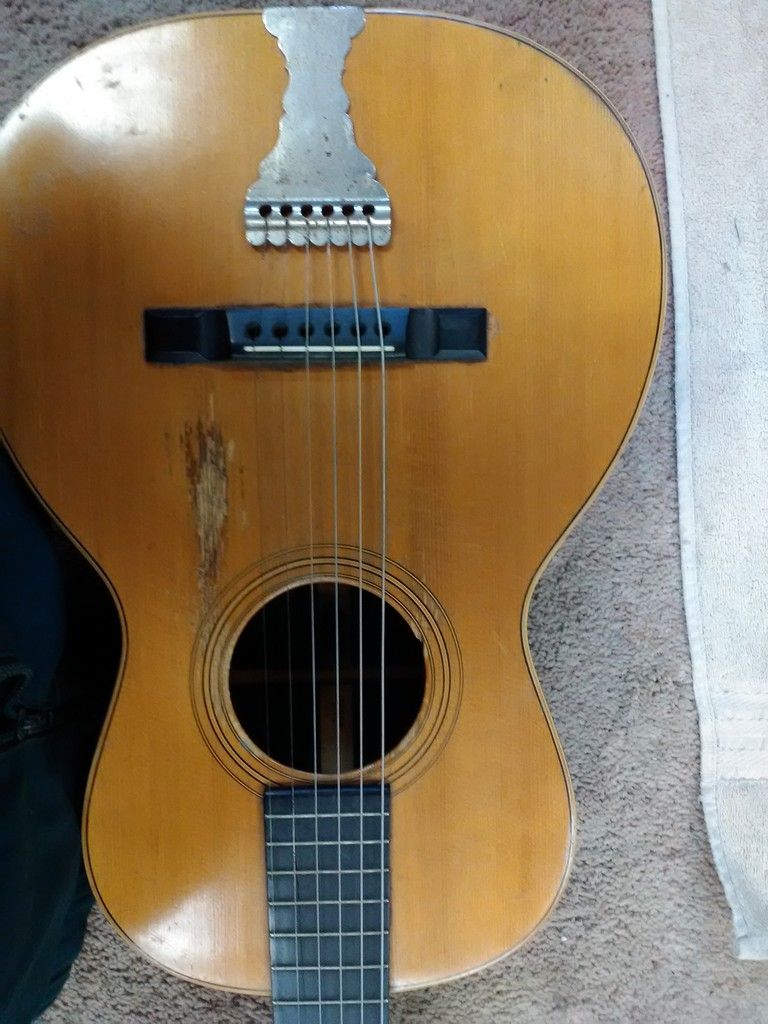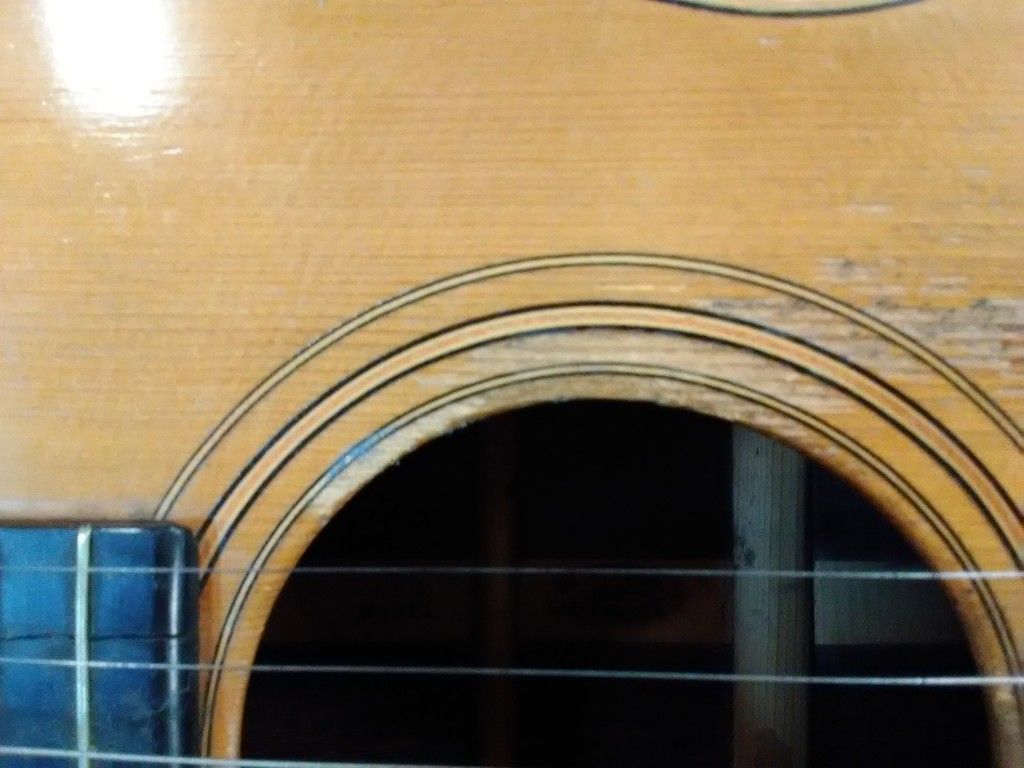 96
wow gibson l-30 now that also is s very sweet guitar only seen pics of them
97
nice old parlor 1889 was around the $32.00 mark back then making it a semi high priced instrument was a concert size guitar rosewood b/s could be either cedar or mahogany neck 18 frets ebony finger board and should have no fret markers ebony flattened bridge no binding on the top colored rings around sound hole and a fancy back stripe and more pics would help
98
« Last post by singlecoils on May 24, 2018, 06:46:53 PM »
Thanks for the info fellas. Sounds like Washburn didn't make very many of these. Makes since that I was having trouble finding info. I'll post some more pics when I get back from vacay. FYI the guitar in the case just to the left of the washburn in the pic is a Gibson L-30 that her father had. It's got to be at least 75 years old looks like that's when Gibson discontinued them.
99
« Last post by broz1 on May 24, 2018, 03:35:13 PM »
As I suspected, thanks very much for the confirmation.
100
« Last post by DoogieJ on May 24, 2018, 12:41:28 PM »
Hi I'm new to this forum and am interested in finding out more information about a washburn New Model that I am going to start some repair work on. Stamped inside is the following, the George Washburn stamp, New Model stamp, a #2 on braces under soundboard, and serial number 30668, style 202. Any idea of age or what the style 202 model was would be greatly appreciated.