31
« on: May 20, 2016, 03:06:18 AM »
I found this on eBay, & it is just WRONG in SO MANY ways that I don't even know where to begin. Let's get the pictures first.
http://www.ebay.com/itm/Washburn-WI-65-idol-Right-Handed-6-String-Solid-Body-Electric-Guitar-/291766551579?hash=item43eea4441b:g:kPgAAOSwt7pXMPH~
removed dead image links
Now, THIS is what a WI-65
usually
looks like --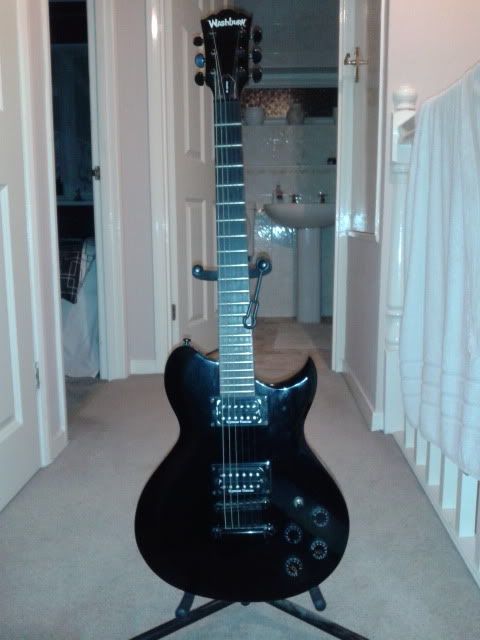 http://forums.washburn.com/index.php?topic=22167.0
Among other differences, the black one has amahogany SET neck, Grover tuners, four knobs, VCC, & Tune-O-Matic. The few I've seen had no fretboard inlays.
Meanwhile, that red thing has the WI-14 forearm cut, & what looks like a built-in tuner (did Lyon use something like that?) or maybe practice amp.
The damned thing really looks like some sort of actual Washie, albeit elements of Oscar Schmidt or Lyon. My first thought was a WI-/OI-/LI-14 that'd gotten its control cavity crushed (hence the repair plate), but someone put a bit of effort into the logo decal & the lettering. Both faces of the headstock have the "end burn" I associate with a ham-handed sanding after a paint strip. The headstock actually appears to be the proper Washburn shape.
The "serial number" is repeated, stamped into the headstock below the lower tuner pair.
I suppose MAYBE the Custom Shop let a "test bed" mutant slip from its grasp, but that's me being an optimist. Anyone care to venture their own guesses?