Recent Posts
1
« Last post by bigcity2 on Today at 03:34:53 PM »
Good looking Washburns, scotto10 ! Thanks for sharing...
2
« Last post by bigcity2 on Today at 03:20:38 PM »
Very nice
collection of Washburn guitars, scotto10 ! Thanks for sharing pictures and info on each.
3
« Last post by scotto10 on August 13, 2018, 07:57:34 PM »
Bump this! No answer in the thread as to if it is still available, If it is, I WANT it! EvilNoseHair, you still around?
4
« Last post by scotto10 on August 13, 2018, 07:41:16 PM »
Got a couple to show.
MG113 Performer
This is the one that Jennifer Batten used when she first switched over from Ibanez to Washburn as she toured with Micheal Jackson. It is a HELL of a solid guitar. The neck is one of the most smooth comfortable necks ever. Nice and thin - unlike all other necks that were coming out of Grover Jackson's workshop at the time. I believe the swamp ash body is a one piece-er too.
Signatures (autographs) on the head stock are non-other than Jennifer Batten herself, as well as Uli Jon Roth & Andy Timmons that I got after a show in Florida.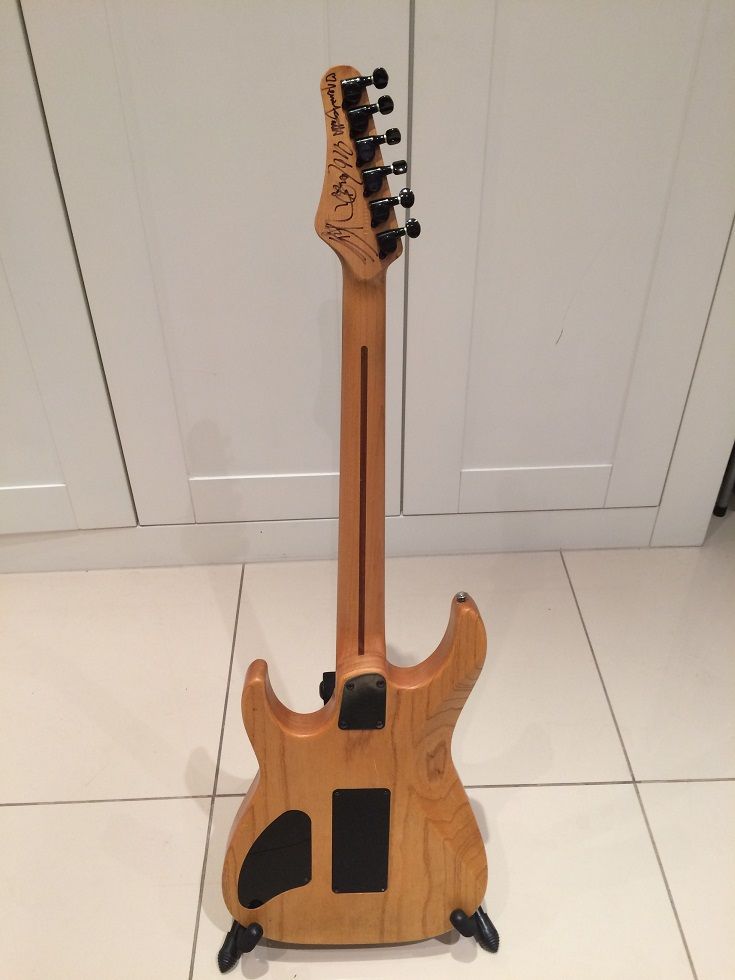 MG701
This is my mystery guitar. Everyone has one and this one is mine. Nothing special about the way it plays, how it looks, or the neck profile or anything else. I just bought it because I was curious - possibly intending to sell it after trying it out. When I plugged it in, I couldn't believe the sound coming out of this guitar - the humbucker anyway. It was astounding. I had to know what pickup it was so I pulled it to see what maker & model I was going to buy for all my guitars but behold - what did I see? Nothing! There are no markings on it and had absolutely no clues as to what it could be. Basically it is a generic no-name pickup. That said, this may be the best sounding guitar out of all of my guitars - and I have some MASSIVE guitars. I guess the stars and planets lined up at that one specific point in the time-space continuum to make it.... magical. At times, I thought about selling all of my non-USA made guitars but this was never on the chopping block.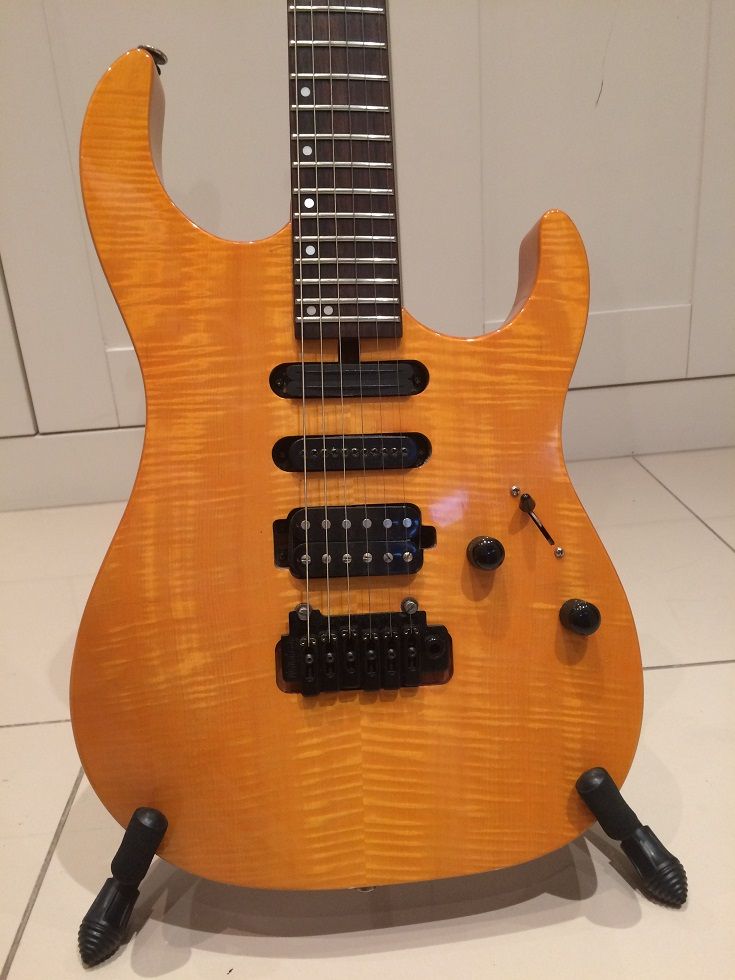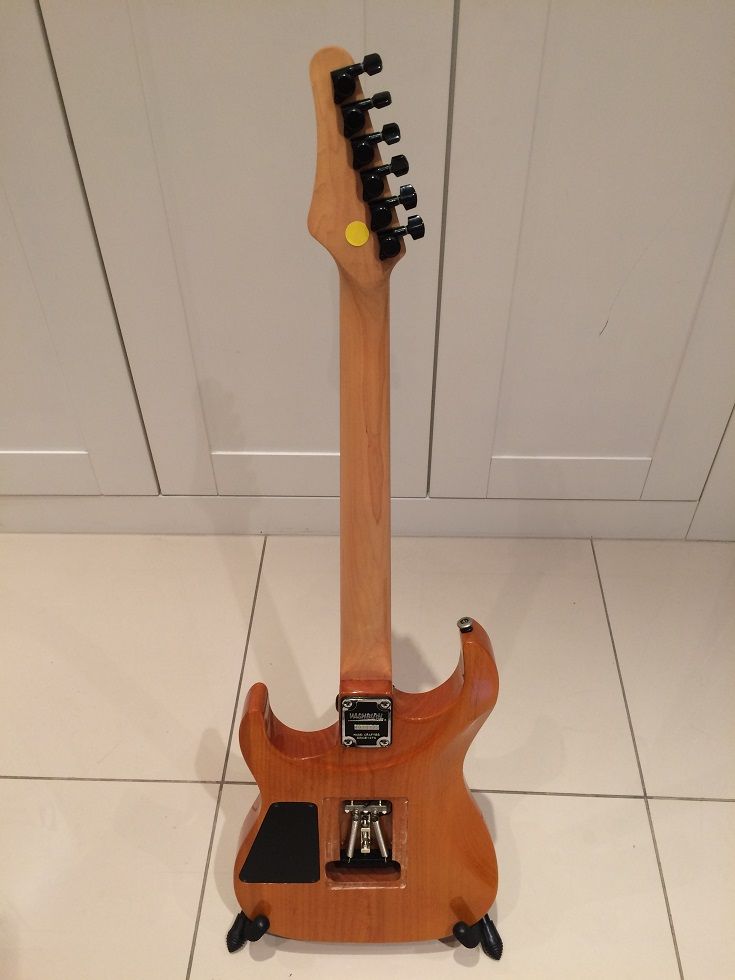 MG74
Nothing too special. Doesn't mean a lot to me. In fact I have lackadaisically tried to sell this for quite some time but no hits - at all. Anyone?
I had the fret board redone at Tuki Guitars in Bangkok, Thailand. Did a damn good job on it.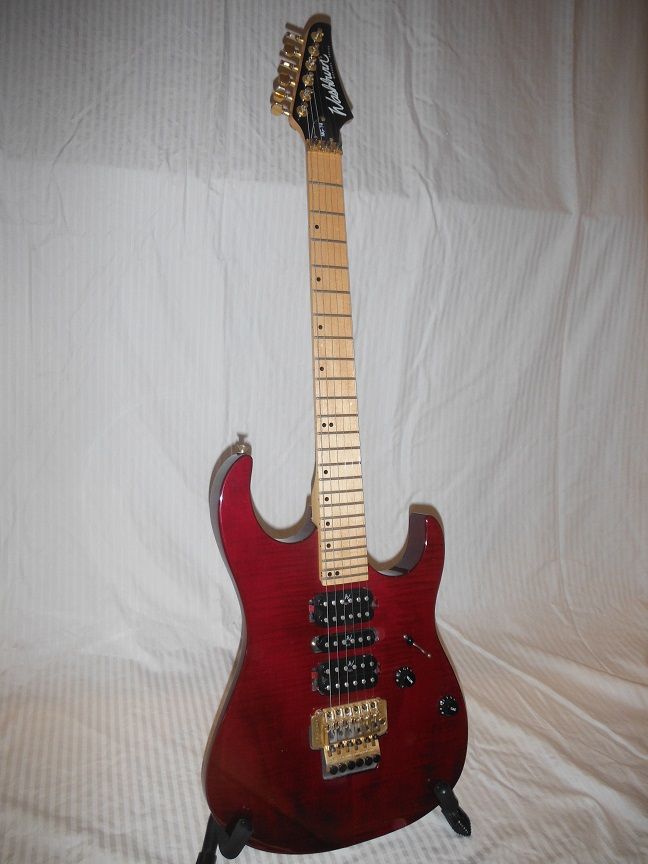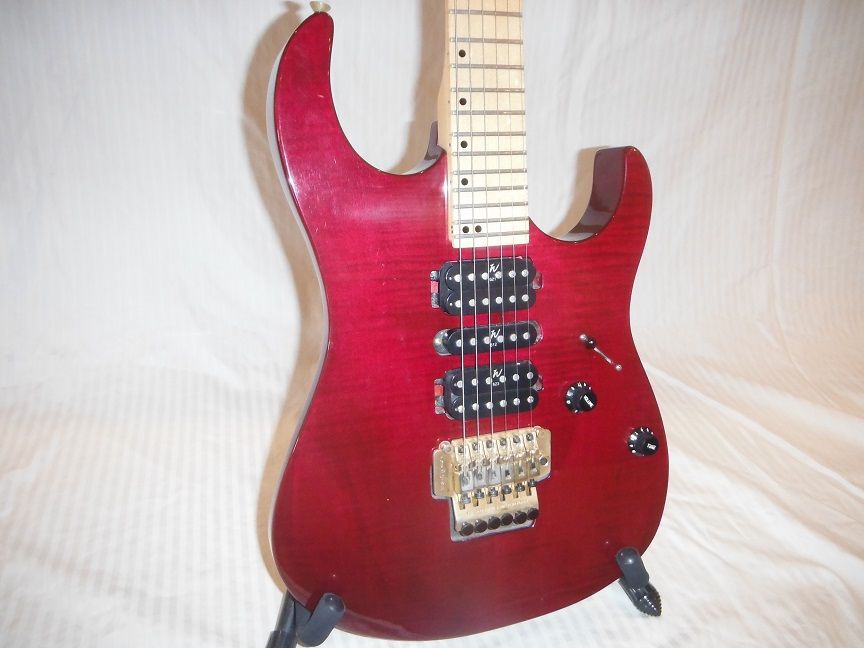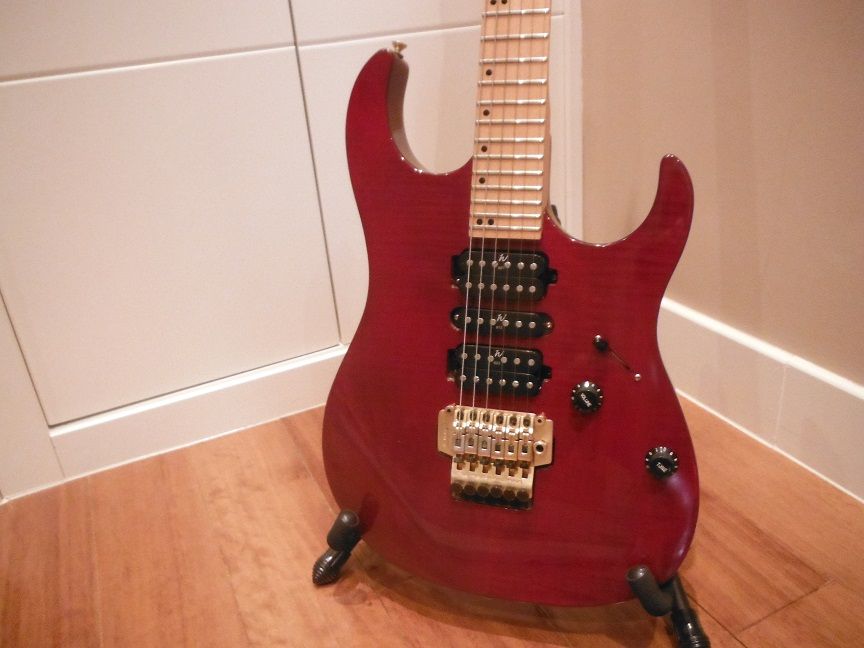 MG401 Deluxe
This one I no longer have. It's floating around somewhere in the U.K. now. On occasion I get a little sentimental and wonder why I sold it
Silverado LS-93
Technically not an MG but - same head stock, same year, so what the hell.
This is a heart breaker. The guy I bought it from claimed it was only played about less than a dozen times. I believe him too as it is in dead mint condition. It has an un-broken in but still very smooth silky neck. I bought it sight unseen (in person, anyway) hoping the photo wasn't quite right but when I got it, it was just like in the photos on the site - almost black. You can see from the areas around the trem cavity on the back the gorgeous blue color it "should" have been. Not sure how something in storage all those years can darken so much. Oh well, it is still an excellent guitar and probably made better than many/most Fender USA Strats.
The neck on this one is, unlike the MG113 above, a Jackson preferred fatty. Not unwieldy fat and actually quite fast and comfortable but definitely not made specifically for shredding.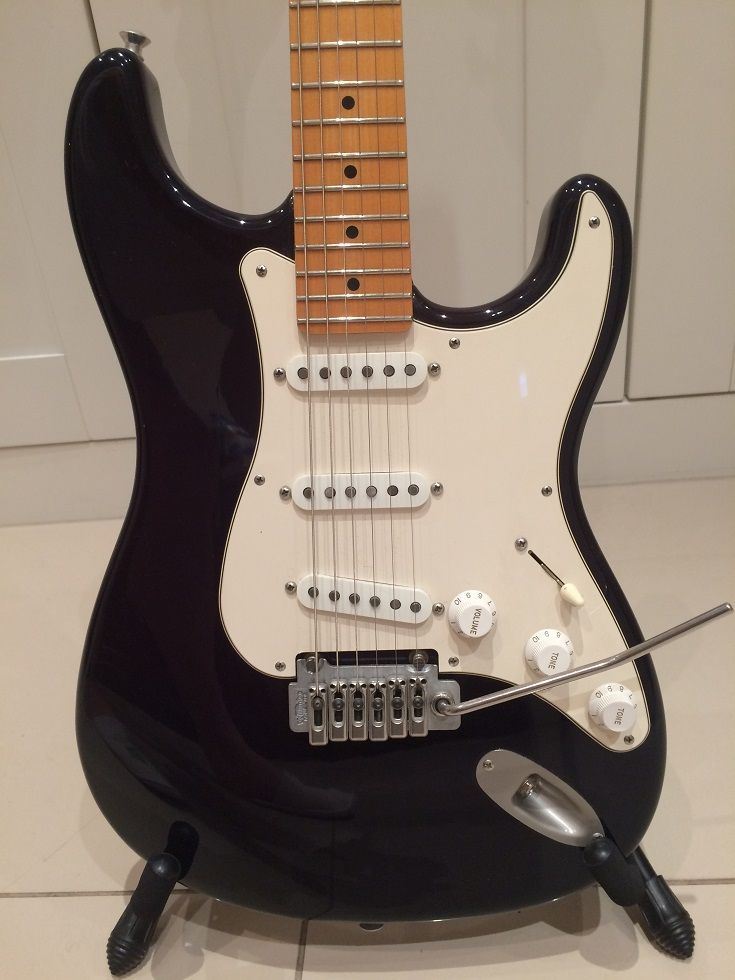 5
« Last post by scotto10 on August 13, 2018, 06:27:30 PM »
As a matter of a fact, I do.
WM200
This is basically N.O.S. I bought it used from a Guitar Center that had about four USA WM's that were all dead mint. My guess is that someone sold them all at once to the GC. I got this one, a friend of mine, Sonny, got another and there was another one or two left but are long gone.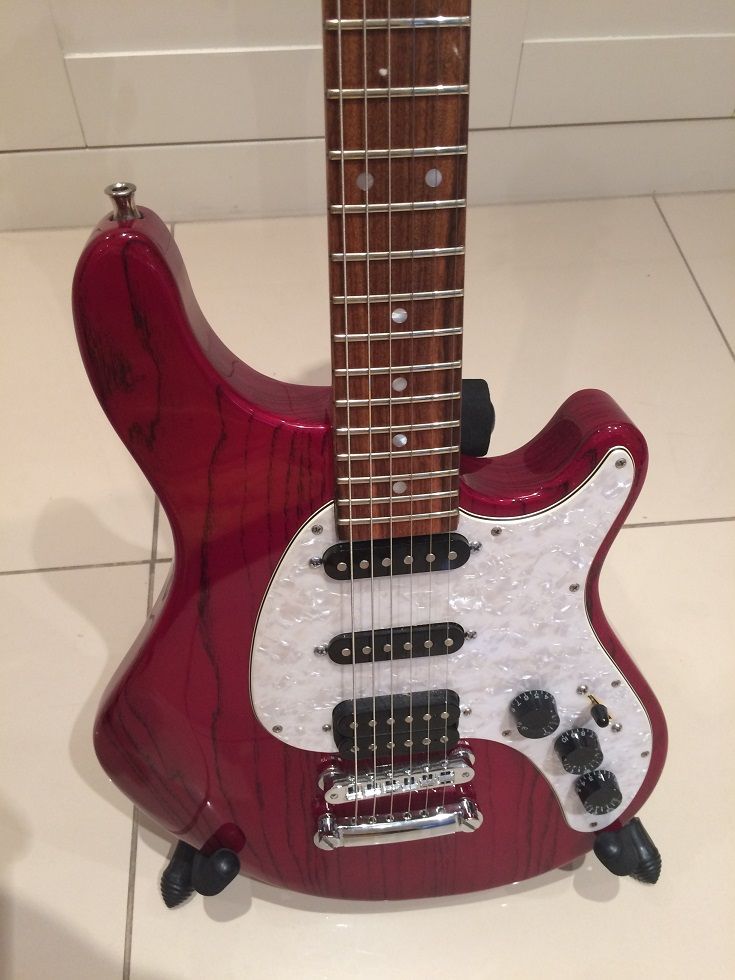 WM100
Got this sight unseen delivered from a Guitar Center in Pennsylvania many years ago. It was a bit dried out and needed some work. I brought it to Keirn Hilleary of, at the time, Chuck Levin's Washington Music Center, but now he runs his own shop name Lucky Pick Guitars. Not only did he bring it back to life but I think he made it better than new. He does amazing work at very reasonable prices.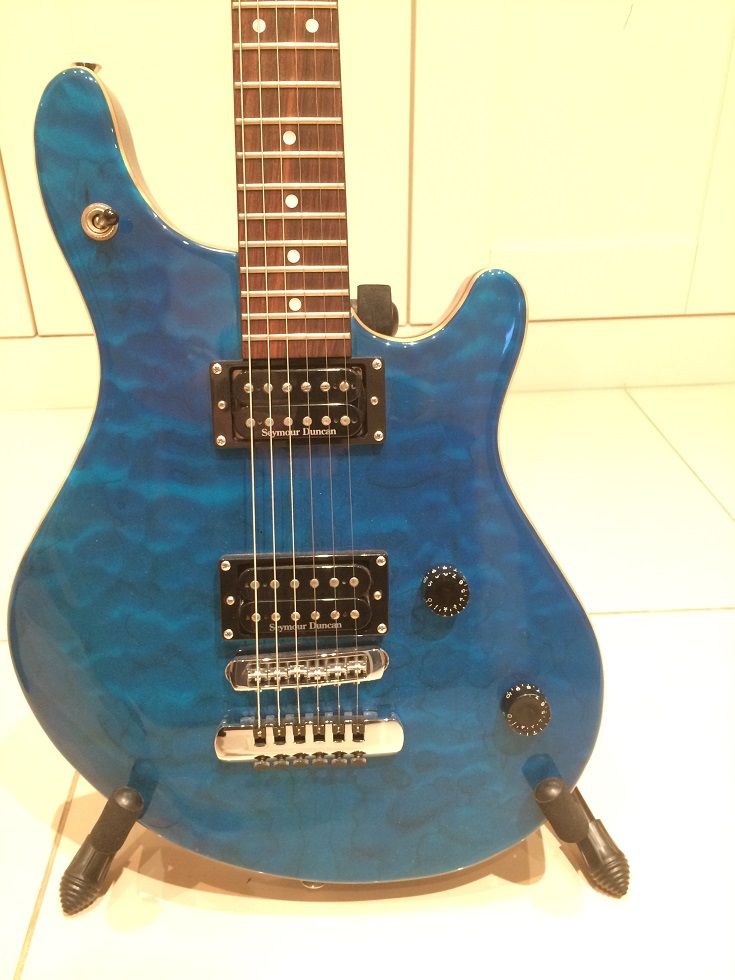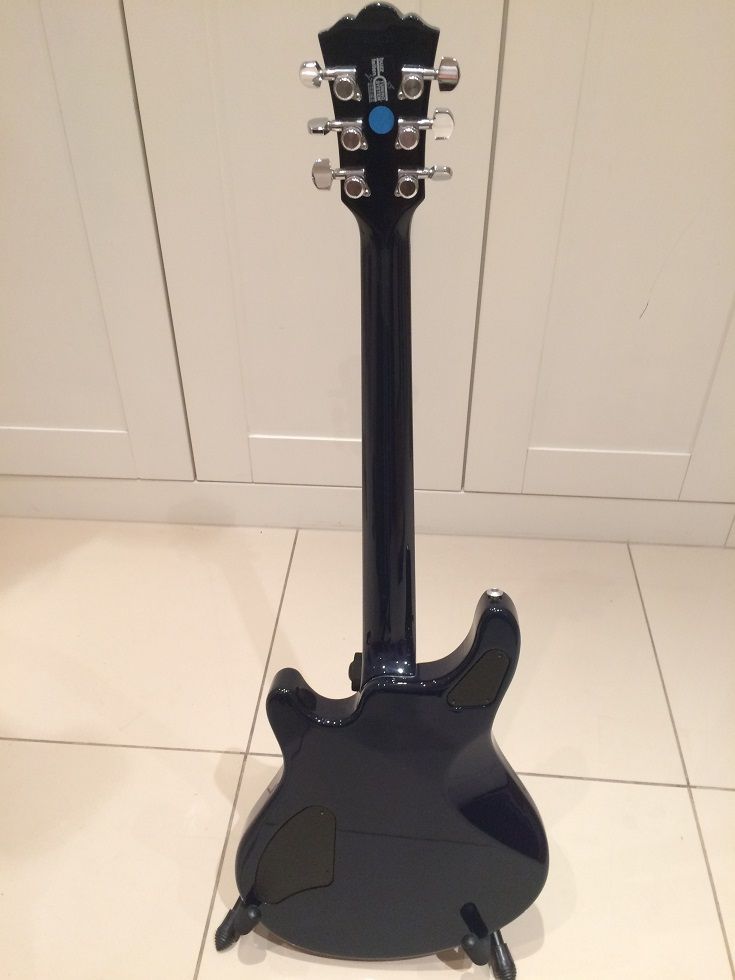 JB100 Midi
Ok, maybe not technically a WM but c'mon, look at it. It's a WM with an artists name on it (and lot of extra goodies too).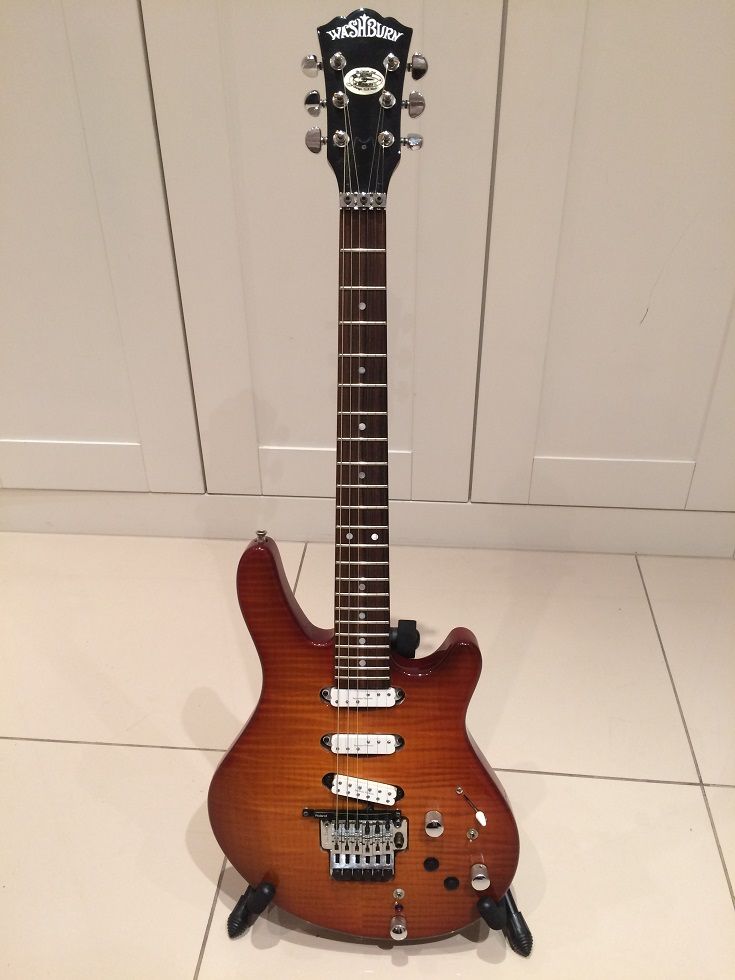 JB100 (non-midi)
I got this one recently. Another amazing top on this - just spectacular artwork. Washburn rivaled (no, bettered, in my opinion) most the other boutique builders like PRS, Suhr and Andersen during this time period [1994-2008]. The craftsmanship was unparalleled.
As a bonus, the third pic is of it and it's sister, the XB925 bass. I got both of these from the same place at the same time. A music store in California that was closing/retiring so they sold these to me. They are ACTUAL N.O.S. guitars. Another purchase sight unseen but not at all disappointed in.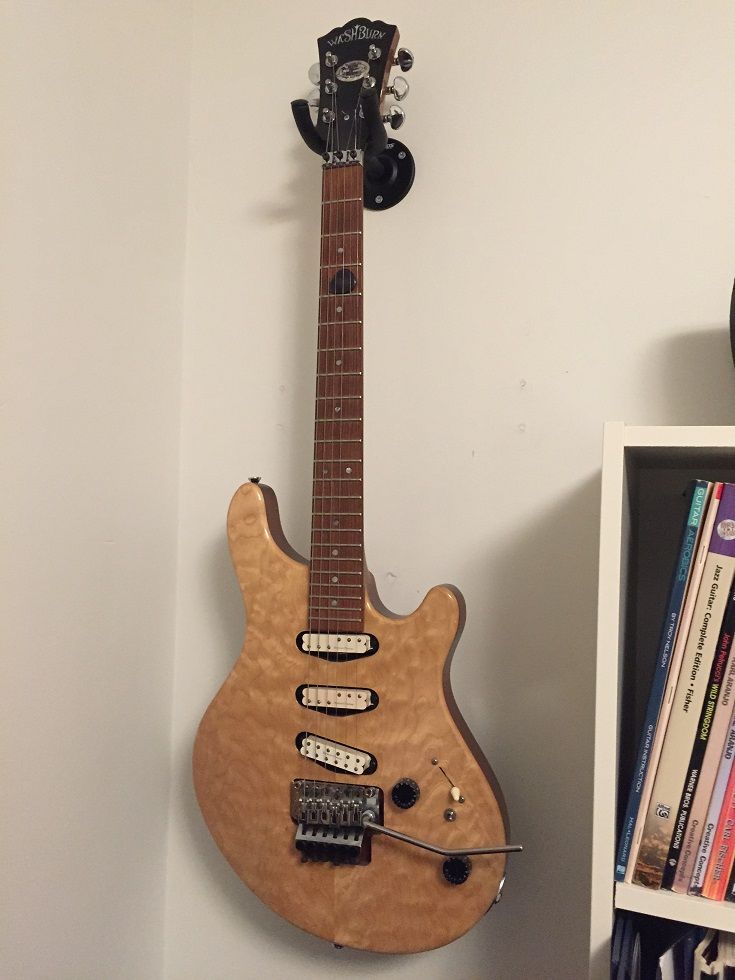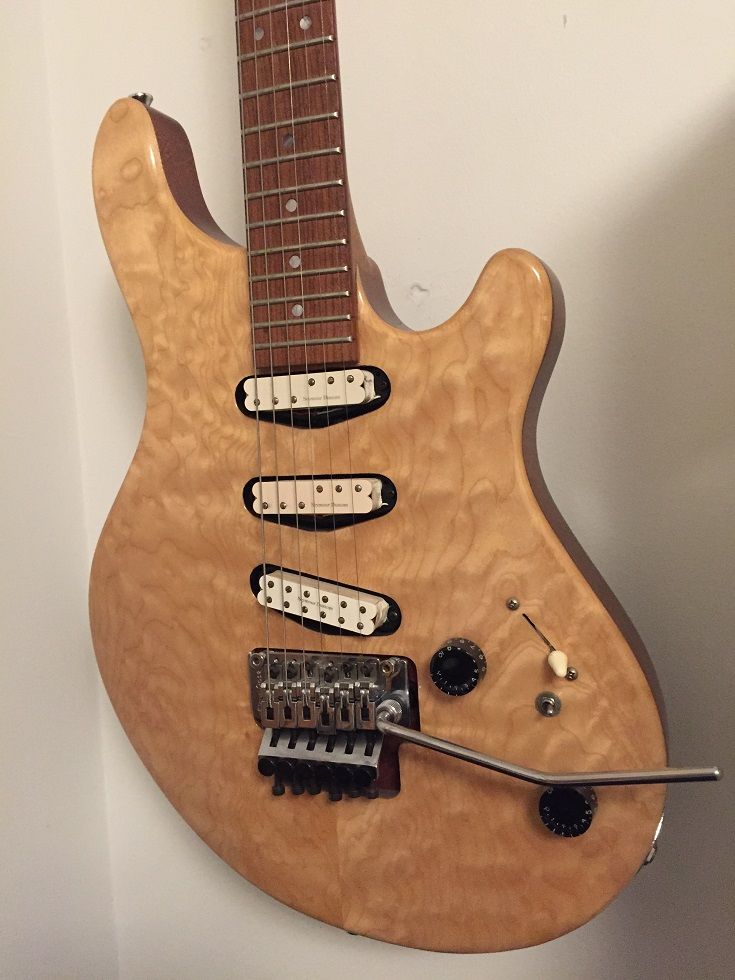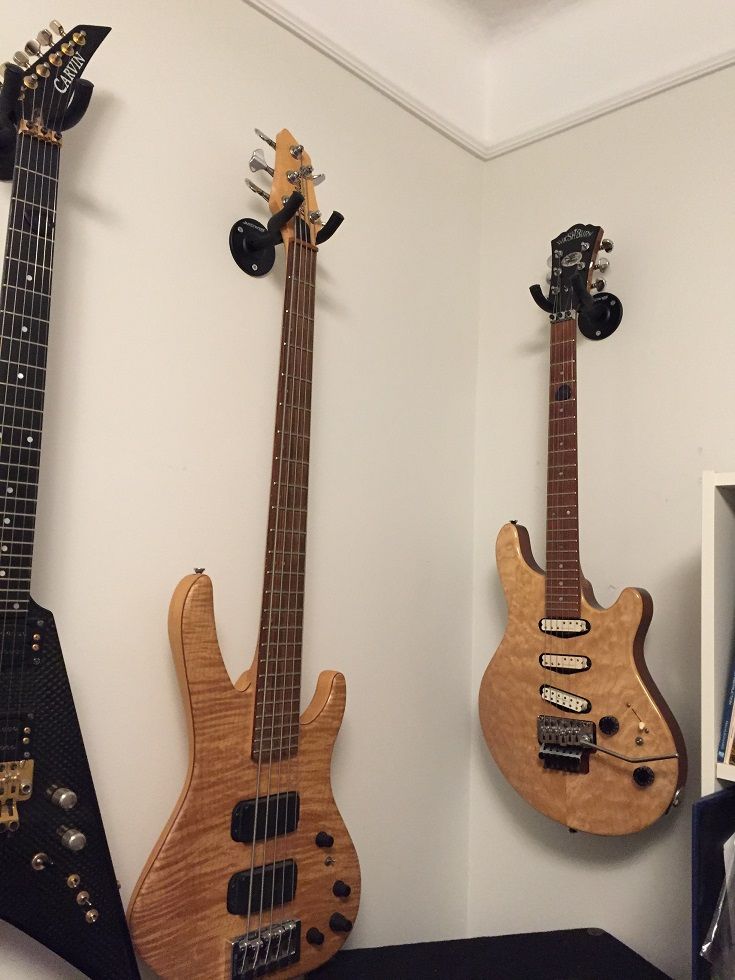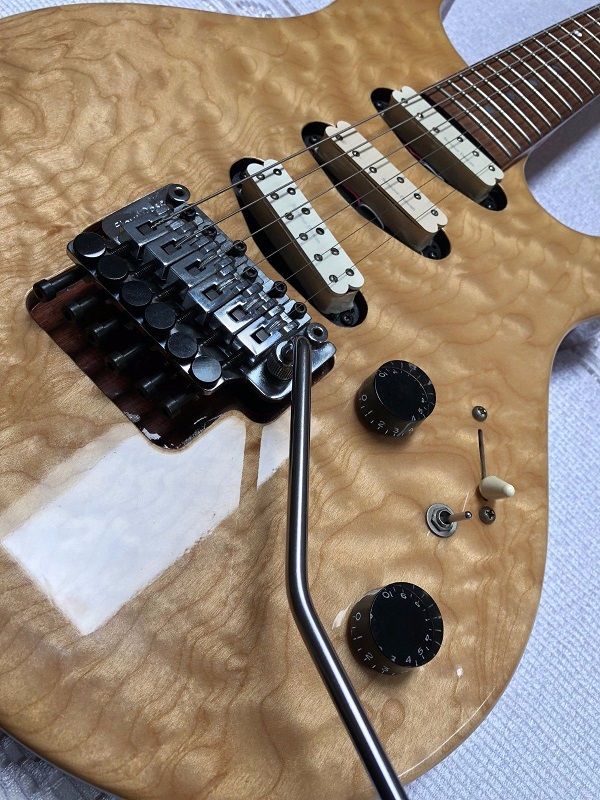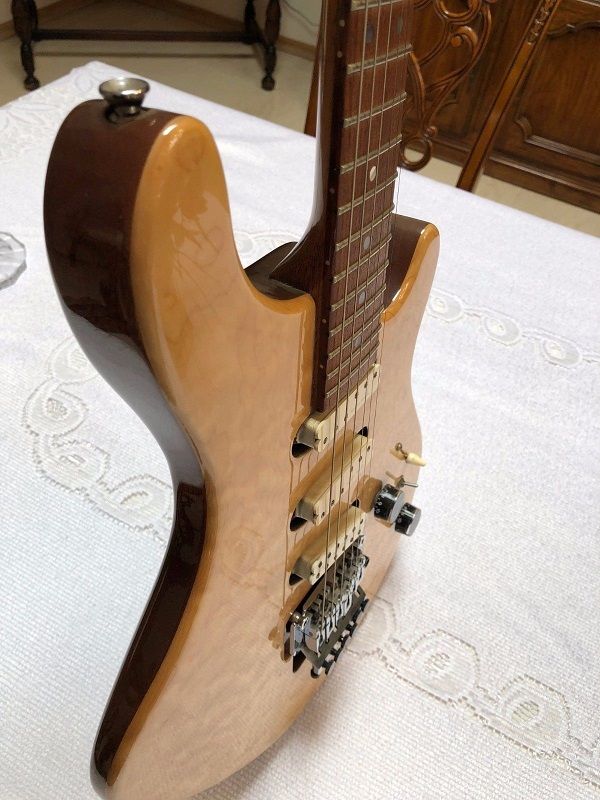 I had this WM4 at one point but sold it. It was a break/repair (before I got it) but was still 10/10 in playability and structural integrity. I just didn't need two of basically the same thing. Looking back at it now though, the top on this WM4 seemed to pop out more than on my WM100. Oh well.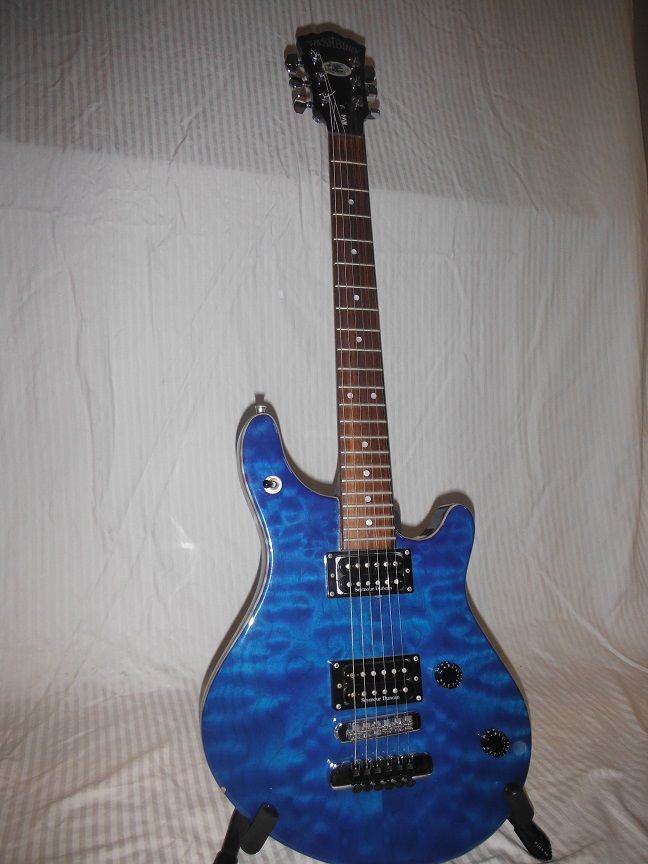 6
« Last post by Tony Raven on August 12, 2018, 01:40:56 PM »
Always nice to see an actual cap rather than the usual "pretty pretty!" veneer.
I've been a fan of the "D" shape since '74 when I got my Univox High Flyer (still have it, too). It got pushed aside for years because of the "thinner is faster" nonsense.
7
« Last post by kurttietjen on August 12, 2018, 08:14:42 AM »
Very quick question here... I just purchased a Washburn semi-hollowbody (an HB36). Is this a guitar that I should keep in the case with the humidity control "stuff" like with my acoustic?
8
« Last post by bigcity2 on August 12, 2018, 06:05:57 AM »
This one, and I believe most, of the MG-154s and MG-142s have a
standard slim " D " style neck
profile. ( commonly called
slim "D"
)
As you suggested, these two models are pre-Grover Jackson builds....
9
« Last post by scotto10 on August 12, 2018, 12:55:41 AM »
Washburn WM-100 (U.S.A.)
Washburn WM-200 (U.S.A.)
Washburn MG-113 Performer (U.S.A.)
Washburn USA Idol White (U.S.A.)
Washburn USA Idol black flame (U.S.A.)
Washburn Pilsen Idol WI70 (U.S.A.)
Washburn Silverado (U.S.A.)
Washburn JB100 (U.S.A.)
Washburn JB100 midi (U.S.A.)
Washburn NV300 (U.S.A.)
Washburn RW300 (U.S.A.)
Washburn XB900 transparent gray (U.S.A.)
Washburn XB900 blue - fretless conversion (U.S.A.)
Washburn XB925 (U.S.A.)
Washburn XS500
Washburn Idol Brutus, prototype from Boogie Street Guitars
Washburn X40 Pro black
Washburn X40pro quilted Aqua
Washburn X40pro quilted blue
Washburn X50 ProQ quilted conaq
Washburn Parallaxe PXM20FR - Flame Black Cherry
Washburn A20 reissue
Washburn MG74
Washburn MG 701
Washburn BT-10
Washburn KC-40
Washburn WD10SCE
Peavey Vandenberg (1st run) (U.S.A)
Ibanez SR300 Fretless
Ibanez S540 (1992)
Ibanez RG8
Epiphone Les Paul Custom black
Epiphone G-1275 Double neck
Carvin CT3 (U.S.A)
Carvin ST300 green flame (U.S.A)
Carvin ST300 honey quilt (U.S.A)
Carvin Ultra V (U.S.A)
Carvin DC727 7 string (U.S.A)
Carvin SH575 MIDI SynthAccess (U.S.A)
Charvel Jake E Lee (U.S.A)
Charvel SoCal (U.S.A)
Charvel SoCal conversion to "Strat" (Japanese)
Charvel San Dimas (Mexican)
Charvel San Dimas Style 2 HH HT M Ash [tele style]
Godin Progression - Black (U.S.A)
Steinberger Spirit
GJ2 Shredder (U.S.A)
ESP LTD EC331fr
Schecter C7
Takamine classical
Here is the Washburn "family" circa 2015. There have been a lot of changes since then though and one day I will update the reunion picture.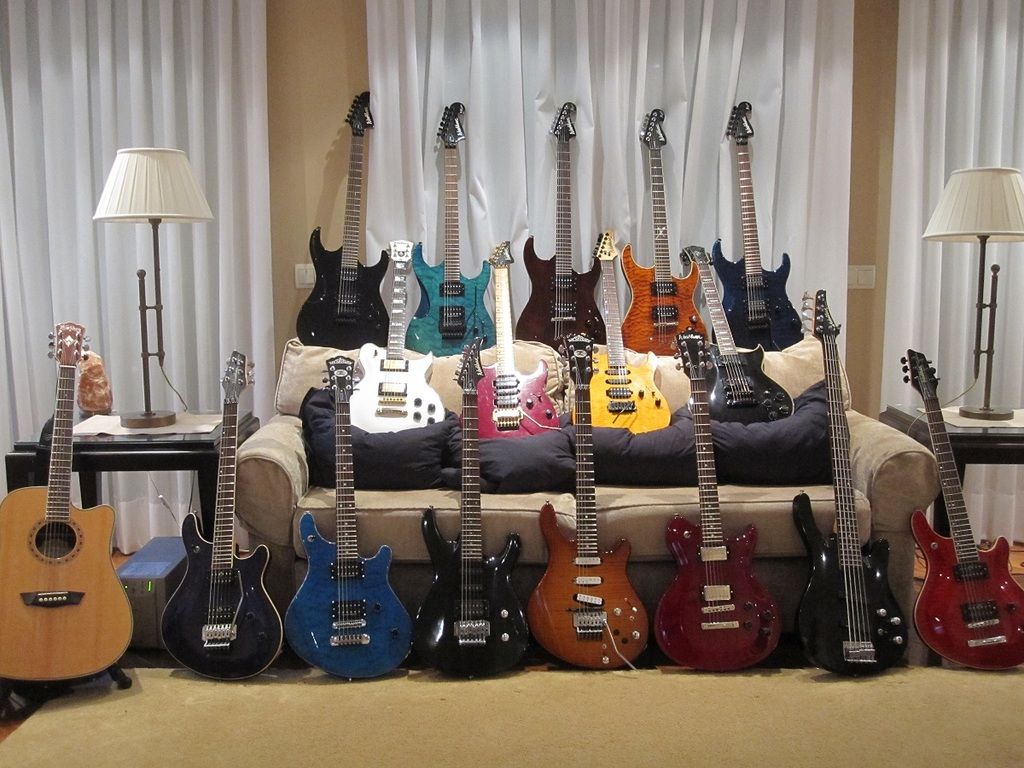 The entire family at that time
10
« Last post by scotto10 on August 11, 2018, 08:09:38 PM »
Wow! What a killer fat maple cap you got on that. Jealous. Does it have a fatty neck profile? When Grover Jackson took over the custom shop (circa 1994) he had most all USA guitars made with baseball bats for necks. A couple years later they slimmed them down a bit. I believe this guitar with the pointy-ish head stock is pre-Grover though. He brought in the sock stock - which is one of my favorite head stock designs.